Belle Glade today on the South end of Lake Okeechobee
Hey, everybody, it's Captain Brian here with a late December fishing report. We were out of Belle Glade today on the South end of Lake Okeechobee. We had a 8 hour full day trip today, we have 4 people we had Ron Power and his brother Shane & Shane two kids Chris and Brandon. We went out and just had a memorable day. It was great having the family on the water and being able to enjoy each other. Watching them talk about the stories that they have had made for a great time.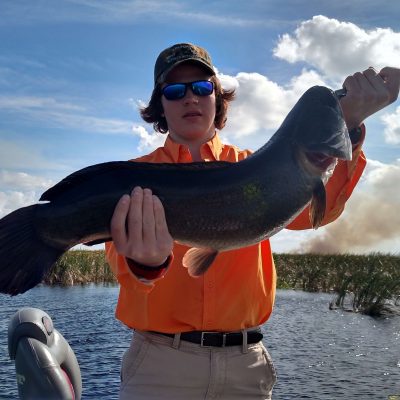 We caught a bunch of fish, just never really got anything really big. We went through six dozen shiners, bite was a little bit off in the morning. Fish didn't bite quite like they should, not the way we definitely thought they would eat. We did catch a couple decent fish in the four pound range, but no giant bass, but did catch a couple giant mudfish. We had one that was 8 pounds and one that was 10-1/2 pounds, not the bass you're looking for but they definitely provide a hard fight and pull hard on the end of that string.
So the guys over all had a great time and Florida provided great weather, even with a little bit of wind we're able to tuck away in a couple areas and just enjoy the day…so come on down and treat yourself to vacation for the New Year.
Hopefully we can get you out on the water and have a trip of a lifetime. Maybe you can even catch trophy fish a lifetime!
Until next time, tight lines Captain Brian Brown
If you enjoyed this post about bass fishing you might also enjoy this fishing report from the same area.