The Frazier Group on Lake Okeechobee
This is Capt Mark Shepard with your Lake Okeechobee fishing report.
Well folks, the last 3 days I've been out with the Frazier Group on Lake Okeechobee. It's a group the guys that come out of Oklahoma that have been coming here for many years. It started with Mr. Frazier, we fished together, and then he start bringing out more and more friends and this time it was thirteen people. It nows spreads out over seven boats and everybody was real successful catching fish.
These guys hit the weather just perfect, prefrontal conditions dropped and getting real cold tonight as they leave. So they were blessed to have some wonderful weather on their fishing trip. Every boat had really, really good numbers of fish and almost everyone had a big fish or at least a change at one. The big fish winner out of the group wins the side pot, not sure what that is exactly but I know the winner ends up buying dinner for everyone, so it must be something good and surely adds a little additional fun to the party.
[fusion_content_boxes layout="icon-boxed" columns="1″ class="" id=""]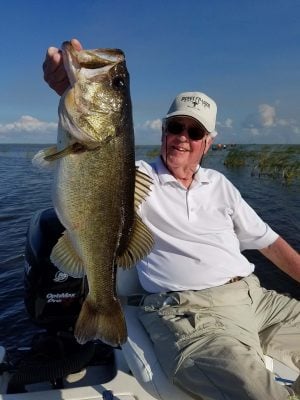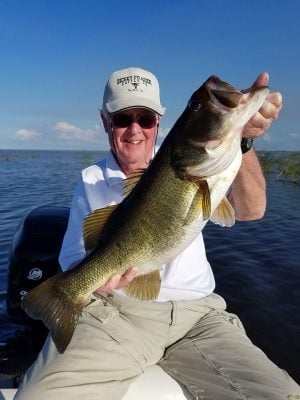 [/fusion_content_boxes]
I had one fish over 8 pounds on my boat, we had another over 7 pounds and we had several fish over 6 pounds. Overall it was just a lot of fun, and we're seeing a lot of big female bass starting to come into the shallows to spawn. This is the beginning of our season, and it's looking fantastic!
I'd also like to thank all my fellow Captains from BASSONLINE for doing a fantastic job with this group of people, it takes TEAM work and you're the best!
Again this is Captain Mark, for all you're Lake Okeechobee fishing adventures go to BASSONLINE.COM and we will take care everything for you.
If you enjoyed this post about bass fishing you might also enjoy this fishing report from the same area.
Dont forget to follow us on Facebook and Instagram.
[fusion_accordion]
[fusion_toggle title="CLICK HERE TO WRITE A REVIEW" open="no"]
[RICH_REVIEWS_FORM category="okeechobee guides"]
[/fusion_toggle]
[/fusion_accordion]
[RICH_REVIEWS_SHOW category="post"]
[fusion_content_boxes layout="icon-boxed" columns="1″ class="" id=""]
[fusion_content_box title="About Capt Mark Shepard" backgroundcolor="#b2ce96″ icon="fa-user" iconcolor="#3bbf4a" circlecolor="#ffffff" circlebordercolor="#oooooo" iconflip="yes" iconrotate="" iconspin="" image="/wp-content/uploads/2014/10/50×50-border.jpg" image_width="50″ image_height="50″ link="/fishing-guides/okeechobee-fishing-guides/" linktarget="_self" linktext="" animation_type="0″ animation_direction="down" animation_speed="0.1″]Captain Mark Shepard is a full-time guide and touring professional. Experience includes BASS Master, FLW Tours, Everstart, BFL tournaments and many others. Mark has a list of accomplishments in the fishing industry a mile long including a Everstart WIN on Lake Eufaula, AL. Mark originally from Florida moved to Ohio to sharpen him northern skills and moved back from Ohio years ago to master guiding on world famous Lake Okeechobee for over 10 years now.[/fusion_content_box][/fusion_content_boxes]