West side of Lake Okeechobee Today
Hey, everybody it's Captain Brian here with another late December fishing report.
We were on the West side of Lake Okeechobee today, we went out of Harney Pond area where met the folks at Big Water baits. I had Ron Power with me again and his group that were out with me a few days before and came back for a second dose of Okeechobee today.
We decided to look at a little different part of the lake today and had an absolute blast. It started off a little foggy this morning, and we made our way out to where we wanted to be and set up on an outside weedline. We absolutely smash them this morning, man first 4 hours they flat put it on them and they got an unbelievable pile of fish.
After awhile we started to poke around looking for bigger fish. Make another adjustment moving up inside and ended up finding a couple of real nice 5 + pound fish that we're setting up to spawn. The fish were really big and had full bellies just had an absolute great time, the day could not have went better.
The weather was fantastic and really worked with us, Ron and his group were a full of fun and we all had a lot of laughs. These are the days that make 8 hour days feel like a 4 hour day!
[fusion_content_boxes layout="icon-boxed" columns="1″ class="" id=""]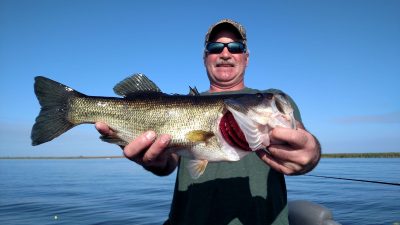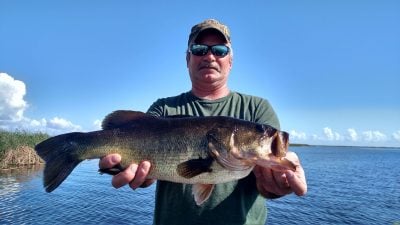 [/fusion_content_boxes]
Hopefully we can get you out on the water and have a trip of a lifetime. Maybe you can even catch trophy fish of a lifetime!
Until next time, tight lines Captain Brian Brown
If you enjoyed this post about bass fishing you might also enjoy this fishing report from the same area.
Dont forget to follow us on Facebook and Instagram.
[fusion_accordion]
[fusion_toggle title="CLICK HERE TO WRITE A REVIEW" open="no"]
[RICH_REVIEWS_FORM category="okeechobee guides"]
[/fusion_toggle]
[/fusion_accordion]
[fusion_builder_column type="1_1″ background_position="left top" background_color="" border_size="" border_color="" border_style="solid" spacing="yes" background_image="" background_repeat="no-repeat" padding="" margin_top="0px" margin_bottom="0px" class="" id="" animation_type="" animation_speed="0.3″ animation_direction="left" hide_on_mobile="no" center_content="no" min_height="none"][RICH_REVIEWS_SHOW category="post"]
[fusion_content_boxes layout="icon-boxed" columns="1″ class="" id=""]
[fusion_content_box title="About Capt Brian Brown" backgroundcolor="#b2ce96″ icon="fa-user" iconcolor="#3bbf4a" circlecolor="#ffffff" circlebordercolor="#oooooo" iconflip="yes" iconrotate="" iconspin="" image="/wp-content/uploads/2015/09/Brian-brown-50×50.jpg" image_width="50″ image_height="50″ link="/fishing-guides/okeechobee-fishing-guides/" linktarget="_self" linktext="" animation_type="0″ animation_direction="down" animation_speed="0.1″] Capt Brian Brown is a seasonal full-time bass fishing guide, he is also your go to Crappie fishing guide on Lake Okeechobee. With over 20yrs of experience Brian can help you understand the movements of fish, understand how to read your electronics. As well as helping you choose the proper tackle to use for your next fishing trip. So if you are ready for a fun day on the water with great fishing tips thrown in, Capt Brian could be the guy for you.[/fusion_content_box][/fusion_content_boxes]
[/fusion_builder_column]